EXC Cap Mounted Earmuff
Comfortable for all-day wear with unique injection molded inserts providing excellent attenuation and maximum space for the ears inside the cup. Features a spring design that offers low pressure tension and a high level of comfort.
SOR10012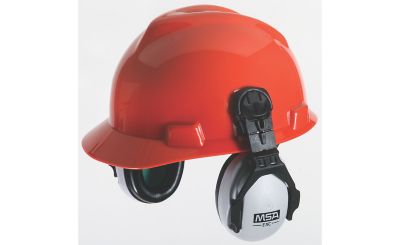 Spring design offers low-pressure and a high level of comfort
Three distinct wearing positions for ease of use
Excellent grip makes it easy to adjust the cups, even when wearing gloves
Markets:
Construction, Mining, Oil & Gas
Applications:
Confined Space, Welding
MSA EXC Ear Muffs are third party tested in accordance with ANSI S3.19-1974 and meet CSA Class A.
USA Approvals
Canadian Approvals