PremAire® Combination
The PremAire Combination, a Combination Supplied Airline Respirator with compressed air cylinder, is designed to be versatile, comfortable, and affordable. A streamlined design offers a first stage pressure reducer and cylinder valve within one assembly, creating a very small size and profile that is less likely to snag when working in confined space or tight places. The PremAire Combination can be equipped with either the 3S-PS-MaXX or the Ultra Elite-PS-MaXX full face mask in combination with the AutoMaXX-AS lung-governed demand valve.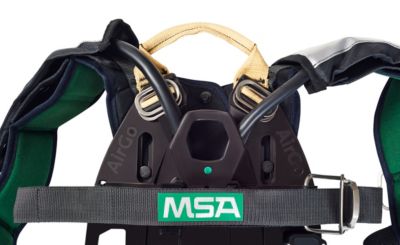 SCBA Accessories
MSA SCBA Accessories support and enhance the protection grade of your equipment, increase your comfort and save time and costs by optimizing your workflows. Even simple appearing enhancements can make a huge difference to increase the chances to survive or to simply free more financial resources for other important investments. The details of our products show the bandwidth of our experience and empathy for the challenges of your work environment, be it for training, during maintenance and most important, in the real life operations.
Quick-Disconnects and Adapters
These assemblies connect air supply hoses to the manifold and air source. Locking-type quick disconnects are available to interconnect lengths of air supply hose. With locking quick-disconnects, use up to 12 sections of hose to make up the maximum length.