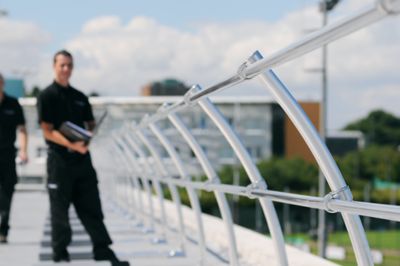 VersiRail® Guardrail Systems
The MSA range of Latchways® VersiRail guardrails provide a temporary or permanent fall protection system for leading edges. MSA guardrail systems are customizable for added versatility and provide passive fall protection for the user, incorporating the durability and reliability needed to get the job done and are aesthetically pleasing for any building type. 
WalkSafe® Roof Walkway System
The MSA range of Latchways® Walksafe is a leading roof walkway system that has been trusted for decades in roof access strategies. Roof walkways provide a delineated access route that restricts the worker to safe zones when working at height. Walkways provide traction for user to prevent slips and trip, but also work to protect the roof surface from foot traffic.
Workman® Harnesses
Quality, comfort, and value come together in the Workman line of products. Workman Full Body Harnesses feature lightweight components and durable webbing. For corrosive environments, the Workman® Stainless Steel Full Body Harness comes equipped with stainless steel hardware.  Stainless steel components are resistant to harsh environments so they maintain durability when used in corrosive environments.
Workman® Personal Fall Limiters
The Workman Personal Fall Limiter (PFL) and the Workman Twin Leg Personal Fall Limiter are two of the most versatile fall protection devices available on the market today. The Workman PFL has a fast acting brake mechanism and the Workman Twin Leg PFL offers a great alternative to twin leg shock-absorbing lanyards.
Workman® Self-Retracting Lanyard
MSA's new Workman SRL provides the best value for your money! With lightweight design and durable, thermoplastic housing with impact-absorbing bumpers, the Workman SRL will not only be accepted by users, but also provides years of dependable service.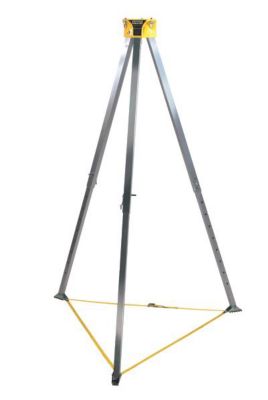 Workman® Tripods
MSA Tripods make confined space entry with vertical descent easy. The Workman Tripod features internal leg-locking mechanism, maximum height indicator on the tripod legs, cut-resistant leg pin retention chains, recessed product labels, reduced weight and integral carrying strap. 
Discontinued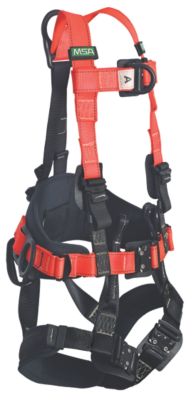 Gravity Utility ASTM Harness
Full Body Harness that can be used in a diverse number of applications like: Confined Space, Rescue, Transmission Tower, Telecom Tower, Rope Access, and many others. Using the Gravity Utility Harness you will also be protected by a fall and in addition the harness has been tested to continue to provide protection when an arc flash occurs.