Keeping users and roofs safe
As the world leaders in fall protection—and with an overarching importance on user safety—MSA has always believed in testing not only to the standard but above and beyond it, which lead to the development of the Constant Force® technology.
Different from any other solution available in the market, the Constant Force® technology absorbs the load generated in the event of a fall, minimising loads placed on the roof structure, and therefore keeping users and roofs safe at all times.
Constant Force coil controls the load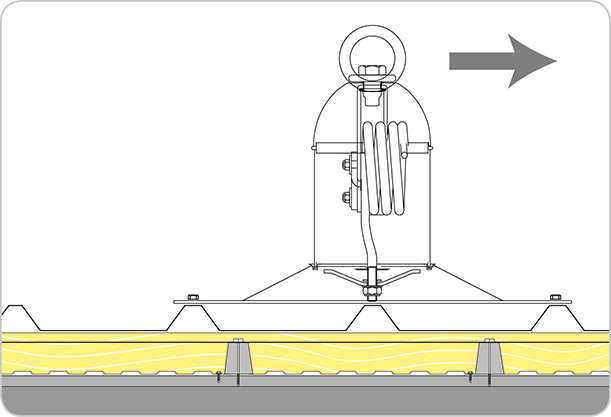 Forces applied
Topples and absorbs energy
Complying with the legislation and beyond
MSA Latchways Constant Force® post range has been tested and is compliant with both EN795:2012 and CEN TS 16415:2013, just as a starting point! Tests were carried out in excess of standards for any foreseeable misuse – that includes a 3-user mass, representative roof constructions, in all orientations and in extreme conditions.
Backed-up by Roofing Manufacturers
MSA has tested the Latchways system on over 500 roof types (with between 6-10 tests on each!), each backed-up by Manufacturer Approval Letters. The manufacturer approval ensures that the installation of a Constant Force post system will neither compromise the integrity of the roof, nor the guarantee given by the Roofing Manufacturer.
Easy and quick installation
Whether installed on standing-seam roofing, on corrugated metal decking, on secret-fix roofing or on single ply roofing, the simplicity of our fixings and the limited amount of components required allows for quick and easy installation, providing safe solutions to workers at height.
Low cost of ownership
Because longevity is on top of our mind, all our components are made of materials that have been chosen to give maximum corrosion resistance, so minimum maintenance is required over the years even in the harshest environments.
Safe and smooth
The ingenious design of the Latchways Transfastener™ attachment device allows continuous smooth movement along the lifeline by rotating its way through intermediate cable supports, keeping users continuously attached to the system and therefore eliminating the risk of human errors.
Free design and specification
The MSA team can design the ideal fall protection system layout for your project and provide comprehensive support and advice. Our BIM models are also available, so you can easily integrate the system into your specifications.
See how the Constant Force Posts can be combined with our Vertical Fall Protection Systems, Guardrails and Rooftop Walkways to provide a complete Roofing Fall Protection Solution.
These models are strictly for illustrative purposes only. They do not necessarily represent exact products, use of products, or situations, and MSA makes no representations with respect thereto. MSA shall not be responsible for any loss or damage of any nature (including consequential loss or damage) suffered or incurred, directly or indirectly, resulting from the access to or use of the interactive models by any person(s).
Roofing Fall Protection Resources
Enquire Now - Fall Protection
If you wish to learn more on MSA Fall Protection Equipment or to customise your Engineered Systems, do leave your contact details in the below form and our representative will get in touch with you shortly.
Thank you for your request! An MSA associate will be in touch with you shortly.